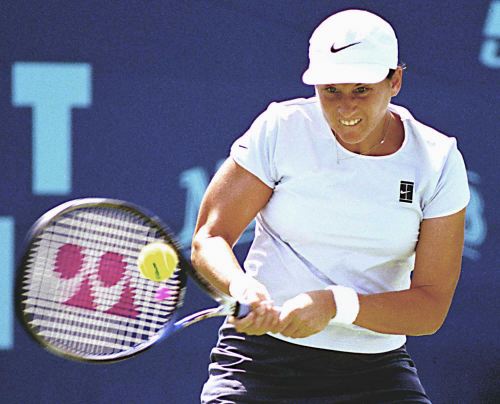 (I don't actually know anything about professional tennis, so if Monica Seles ha a terrible backhand, just pretend I picked someone who has an incredible and deadly backhand instead. That's the point.)
Yesterday, our CFO and a couple other finance folks called to ask if I could put together some data for them. It wasn't a huge deal, but I talked it through with them to make sure I knew exactly what they wanted, and said I could squeeze the extra task in and have it to them by Monday morning. No biggie.
So I stop at my local coffee spot this morning for a nice dose of java and some pastry accompaniment, and I happened to run into the aforementioned CFO. He greets me pleasantly, we chat for a moment about coffee, and then he launches into this:
Him: "I was really impressed by your calm response yesterday!"
Me: "...."
Him: "You really took it in stride."
Me: ".......ummm, did you think I would....panic?"
Him: "No, I just mean, it was the perfect corporate response."
Me: ".......uh, thank you?"
[pause]
Him: "So now tell me, who exactly do you work with again?"

Are you serious? "Perfect corporate response"? What am I, an intern? "Who do you work with"?
I HAVE BEEN HERE FOR 4 YEARS AND THERE ARE ONLY 38 PEOPLE IN OUR OFFICE.
Do you seriously not know???